Welcome!
---
We're the Miniature Society of Cincinnati, MSC. We're a multi-talented, multi-age group of people who are passionate about the hobby of miniatures. Some of us are artisans, some of us are collectors, and most of us are quite a bit of both.
By miniatures, we are referring to 1/12th scale, also called dollhouse scale. That means that one inch in scale size equals one foot in actual size. A 3-inch tall chair would represent a 3-foot tall chair, for example. We also work in smaller scales, half- and quarter-inch to the foot and even smaller.
Our creations are as varied as authentic period roomboxes to log cabins to fantastic faerie wonderlands, from tiny scenes in pocket watch cases and tea cups to full-size dollhouses. Feel free to browse our Galleries to see some of our work.
Membership is open to adults 16 years of age and older, no experience necessary. Come explore our miniature worlds and join the fun!
Save the Date…
for our next Show & Sale…
April 6 & 7, 2019
(Dealers, you can download the 2019 Dealer Contract here. The application deadline is December 31, 2018.)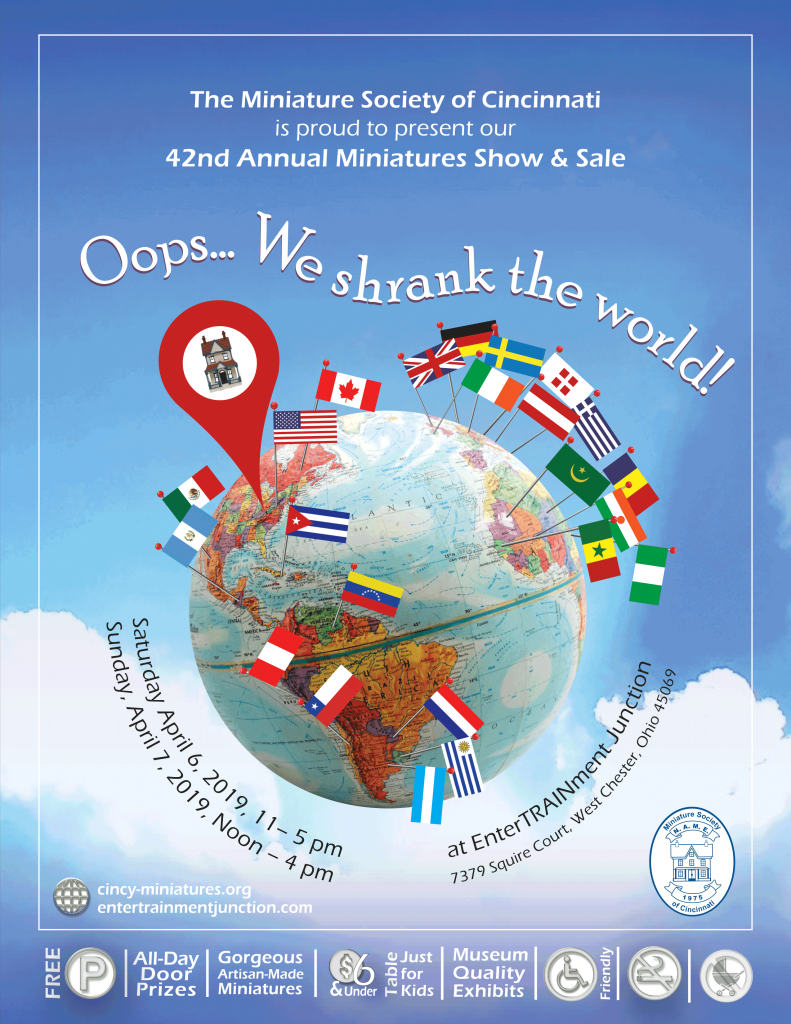 ……
News
---
Everyone is invited to a FREE exhibition of miniatures by members of the Miniature Society of Cincinnati from 11:00 am to 3:30 pm. PLUS at 1:00 pm, Kaye S. Browning…

MSC Members:  Please notify the Corresponding Secretary and the Minquirer Editor to let them know if your address, telephone number, or email address has changed. Thank you!

We're freshening the website, adding new content, calendars and galleries. Hope you like it!